Marvel 2-in-One #1: Fate Of The Four. Part 1: Fast Burn

Writer: Chip Zdarsky
Penciller: Jim Cheung
Inker: John Dell; Walden Wong
Letterer: Joe Caramagna
Colorist: Frank Martin
Editor: Tom Brevoort
The Guest Star:
Issue 1: The Human Torch
Guest Shots:
Issue 1: Dr. Doom (currently branded as the "Infamous Iron Man"), Spider-Man, and Piledriver. Lots of flashback cameos including Mr. Fantastic, Invisible Woman, Franklin Richards, Valeria Richards, the Sub-Mariner, and the Black Panther. If you count the three "Legacy" pages at the back, then add the Skrulls, Medusa, Karnak, Triton, Rocket Raccoon, and Groot to the flashback cameos list.
The Villains:
Issue 1: No real villain in issue 1; this is the era of "decompressed" story-telling.
The Set Up:
Courtesy of Dr. Doom, Ben receives a "beyond the grave" communication from Reed Richards. The Human Torch is emotionally adrift after the apparent deaths of Reed and Sue and their children, and Ben decides that Johnny needs his aid.





Clobberin' Time?:
No serious fights in issue 1, but when Ben meets Doom he does say "start talkin' before I start clobberin'!" which is the closest we get.
Petunia's Patch:
No Petunia. John Byrne kind of "broke" the Petunia jokes when he had her actually appear in Fantastic Four 238-239 way back in the early 1980s (and then Mark Millar had her apparently killed in the late '00s in FF #568), so I wouldn't expect many Petunia mentions.
Things of Interest: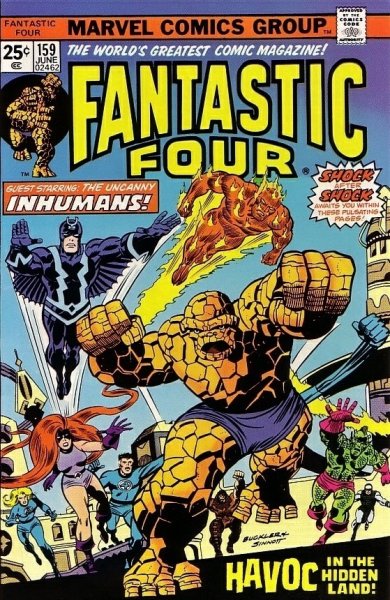 In June 2017, Marvel announced this new iteration of Marvel Two-in-One as part of their "Marvel Legacy" promotions. These two images were released, the left informally, the right formally. The left pair are a tribute to and the cover of The Thing (2005) #1, which they apparently chose not to use save as a teaser. The pair on the right, which they did choose, is an Edgar Delgado homage and the original cover of Fantastic Four #159. One variant cover for the first issue was a lenticular featuring both the Delgado cover and the FF cover it homaged.

Okay, an only slightly serious complaint... with the "Marvel Legacy" promotion theme renumbering old series right and left as this was released, shouldn't they have just numbered this issue as Marvel Two-in-One #101?
So... not really a Two-in-One / Team-Up book, but rather just a Human Torch/Thing book. They actually did that in the 1960s with Strange Tales 116-134 or so; maybe they should have more accurately titled this book Strange Tales instead of MTIO. I imagine you'll understand my disappointment at this, but I'll happily read a Ben Grimm book any day of the week. However, I'll probably not be doing individual pages here for each issue, but maybe one page per arc or for the whole series. I'll also note that I live in the middle of nowhere and get comics only twice a month, and I only get the issues one or two weeks after they're released - don't expect quick reviews!

By the indicia, this is technically Marvel 2-in-One, not volume 3 of Marvel Two-in-One. So, the abbreviation for this series will be M2iO, as opposed to the origianl series, MTIO. Though it has no presence on this website, there was indeed a volume 2 of Marvel Two-in-One. It ran 17 issues from (by cover date) Sept. 2007 to Jan. 2009, but each issue just reprinted two younger-skewing stories - a Marvel Adventures The Avengers story (issues 1-17), and one of either X-Men First Class (vol. 1 issues 1-8 and vol. 2 issues 1-4) or Marvel Adventures Iron Man (issues 1-5). Confusingly, there also was a Marvel Adventures Two-in-One, which ran pretty much at the same time, 21 issues from Sept. 2007 to May 2009, as part of the Marvel Adventures kids' line. Each issue there also just reprinted a Marvel Adventures Spider-Man issue (issues 27-47) plus either a Marvel Adventures Hulk (issues 1-4, 6-11) or a Marvel Adventures Fantastic Four (issues 23-33) issue. And though no one will confuse either with MTIO, this is as good a place as any to give a hat tip to a pair of non-Marvel comics which homaged the name: 1) Fantagraphics' Hip Hop Family Tree Two-in-One, which was a 2014 Free Comic Book Day giveaway; and 2) an Image Comics 2001 "24 hour comic book" one-shot, Image Two-in-One.

Issue 1:
The official first issue solicit, as released on Sept 13, 2017: "The Four are no more, so two must do! Something is very wrong with the Human Torch and only the Thing can help him! It's the Marvel Universe reunion you've all been waiting for (well, half of it, at least!). Plus: What monumental secret has Doom been hiding since the end of Secret Wars, and how will it completely change the lives of Johnny Storm and Ben Grimm?" The book was initially scheduled for a Dec. 13, 2017 release, but actually came out one week later on December 20th.
As if the two "official" first issue covers (the main cover and the aforementioned lenticular variant) weren't enough, Marvel also went with _so_ many other variant covers (seen to the right). Row one: a variant by Arthur Adams; a Kirby legacy cover; a John Byrne "remaster;" an Alex Ross cover; legacy headshot variant by Mike McKone. Row two: one (front/back) based on 1960s era Jack Kirby t-shirt art, one (again, front/back) a trading card variant by John Tyler Christopher; a Joe Jusko exclusive variant for Sanctum Santorum Comics & Oddities. So, what, at least ten different covers in total? C'mon, Marvel, don't you think this is just a _little_ bit of overkill?
In mid-November, uncolored preview art from one of the pages had a Spidey wisecrack to Ben as follows: "You dunce! I'm here to support you! The world's second most well-known orange monster." The final sentence there, a Donald Trump reference, didn't survive to publication.
The character of Rachna, introduced on page 5, had an interesting look and vibe. Hoping we see her again - I can't tell if this is the writer setting something up, or just giving a friend a cameo. My best guess is the she may be the "mysterious woman" in the solicit for issue 3, and indeed she then showed up during solicits on the cover of M2iO 4.
Page 1, panel 1, during a car race, the order of the drivers is given as Jordan in first, followed by Evans and Underwood. Those are the three actors who've played Johnny Storm in live-action movies: Michael Jordan, Chris Evans, Jay Underwood.
Ben's reading glasses on page 2 were a new thing and unexpected; I found them charming but, as you might guess from my having grown up on the original MTIO (1973-1983), I'm reading glasses age myself by the time this book is being published. I suspect they'll eventually vanish as Marvel seems to want to keep everyone young, but for now I'm charmed by them.
Piledriver, the bruiser Spider-Man is fighting and who Ben takes out with one punch, is pretty much Marvel's prime example of an orc, a personality-less cannon fodder you throw in when you want a quick fight. I suspect the Wrecking Crew are permanently ruined as effective villains by this point.
Marvel Value Stamp! The original run of MTIO had the MVSs in issues 2-7 and 12-15, so this is a timely throwback. This issue has #6, the Black Panther.
As part of the "Marvel Legacy" promotion, the issue includes a three-page history of the Fantastic Four at the back. This was done by Robbie Thompson (writer), Greg Land (penciler), Jay Leisten (inker), Frank D'Armata (colorist), Joe Caramagna (letterer), and Darren Shan (editor).


Issue 2:
The solicit for issue 2, as released on Oct. 17, 2017: "What is the secret of Reed Richards? And is it deep within Monster Island? Ben and Johnny are the only ones who can uncover it, unless Doom beats them to it! The Fate of the Four continues here!" The book is scheduled for release on Jan. 24, 2018, and there'll be just one alternate cover, an Avengers variant by Gabriele Dell'Otto.









Issue 3:
Third issue solicit, as released on Nov. 22, 2017: "Flame off! Johnny Storm is losing his powers, but why? And who is the mysterious woman who says she can help? Plus: The Mad Thinker and Doom square off over Reed Richards as 'The Fate of the Four' continues!" The book is scheduled for release on Feb. 14, 2018, and there was initially just one alternate cover, a Hulk variant by Mike Hawthorne. A second variant, a Young Guns cover by Mike Del Mundo, was announced on January 22nd. Also, an artist change by just the third issue, as Jim Cheung is replaced by Valerio Schiti.








Issue 4:
Solicit, as released on Dec. 18, 2017: "Ben and Johnny begin the search for their lost family! But the universe they've landed in may not last long enough!" The book is scheduled for release on Mar. 14, 2018. Short blurb, no alternate covers. Time to wave hands in the air and start running around screaming about cancellation, two days before the first issue even comes out.









Issue 5:
Solicit, as released on Jan. 25, 2018: "The Multiverse itself is on the brink of destruction! Ben and Johnny rise up to and stop the ultimate threat of two of their greatest foes!" The book is scheduled for release on Apr. 4, 2018. Venom alternate cover by artist Dave Johnson.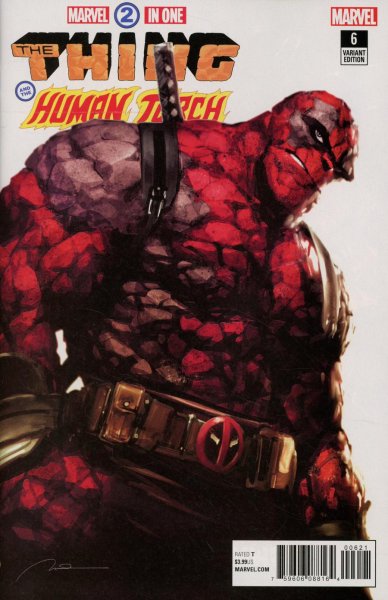 Issue 6:
Solicit, as released on Feb. 22, 2018: "The Fate of the Four – revealed at last! A mad final gambit against the death of a universe! Ben and Johnny join forces with familiar friends, but will Doom ruin everything? The Fate of the Four will be determined here!" The book is scheduled for release on May 7, 2018. Jim Cheung back on art; he previously did issues 1-2. Deadpool variant cover by Gerald Parel.
I'm fairly strongly willing to bet, having read just three issues and seen the solicits for three more, that when the next solicits roll around in March, we'll discover that M2iO is done, canceled in favor of a new Fantastic Four book.







Annual 1:
I lose my bet from the issue 6 note, as we're perhaps not quite yet done - a March 14, 2018 press release announces Marvel 2-in-One Annual 1 for June release, with art by Declan Shalvey. So, at least one more month for M2iO!
I am liking the cover having a team-up vibe to it. My optimistic if unlikely wish - they bring back the FF, but M2iO has been doing so well that they keep it alive as a standalone team-up book a la the old days. Unlikely, but fingers crossed.